Sir Gustav Nossal Medallion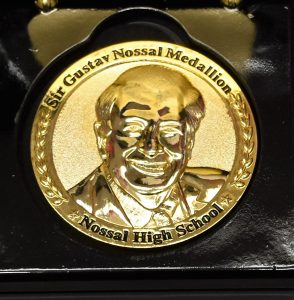 The students at Nossal High School participate in many co-curricular activities, and the school honours this involvement by awarding the Sir Gustav Nossal Medallion to individuals who have demonstrated that they have fully embraced the challenges and the opportunities presented to them during their time at the school. The Nossal Medallion specifically rewards breadth of involvement. Over four years, students accrue points through their participation in 5 co-curricular areas that are characterized by their alignment with Gardner's Five Minds for the Future:
Creative – uncovering and clarifying new ideas

Leadership – fulfilling of one's responsibilities as a citizen

Disciplined – mastery of knowledge, skill or craft

Respectful – increased awareness and appreciation of others

Synthesizing – integrating ideas and communicating to others
Student may attain medallions at the bronze, silver or gold levels depending on their level of involvement. The types of activities which students do to win points for each of the categories are outlined below.
Disciplined Mind 

Individuals will need to be an expert in at least one area – they will need to develop depth and breadth in specific disciplines. 

Clubs

Sports

Music ensembles

Competitions

Synthesising Mind 

Individuals will need to be able to gather together information from disparate sources, find links, transfer and communicate this knowledge 

Subject Competitions (e.g. MAV Maths Competition, ICAS English Competition, Plain English Speaking Competition etc)

SRC 

Debating 

Production 

Creative Mind 

Individuals will need to approach problems in unique ways, creating new products and solutions. 

Creative clubs (e.g. Creative Writing Club, AV Club etc) 

Music ensembles, including contributions to the music for the school production

Drama performances 

Respectful Mind 

The world of today and tomorrow is becoming increasingly diverse. Accordingly, individuals must respect differences and similarities and promote tolerance and understanding. 

Community Service (e.g. attendance at FareShare, School Tree Day, hosting a visiting student, attending a school Working Bee, involvement in CBHP etc)

Committee membership 

Acting as a school tour guide, mentor or volunteer 

Ethical Mind 

Individuals need to be able to act ethically – that is to think beyond their own self-interest and to do what is right under the circumstances. To develop values and moral integrity. 

Leadership positions, including club and sports leadership, SRC membership, House and Tutorial representation, Wellbeing leadership, IRC leadership, eLeadership, Fitness Centre leadership etc
The events cited in this table are representative only; lists of accredited clubs and events are available to students via the school's internal communication system (MSTeams).