School Motto and Logo
The Nossal High School Motto
"Embrace the Challenge"
This was the original statement presented to the foundation cohort on their introduction to their new school. It is a phrase that encapsulates the hope and high expectations we have for Nossal students to grow in their intellectual, social, physical and leadership pursuits. They have been thrown the challenge to succeed in a global world and we want them to embrace it. 
To embrace:

to hold closely, to accept with eagerness.

To challenge:

a call to demonstrate one's strength or ability. (Oxford, 2010)
The Nossal High School Logo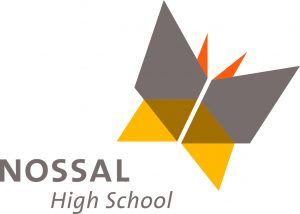 The Nossal High School logo consists of two books (representing academic study), forming a butterfly (emerging from a chrysalis) taking flight. This flight signifies the future and shows a link to the past, since the school is built on the old Casey Airfield.